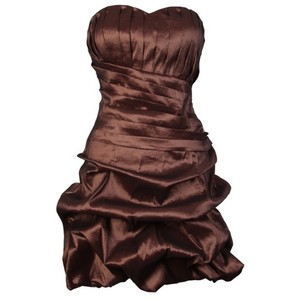 I used to have a short brown gown that suited me. It was actually for my elder sister but I 'claimed' it as soon as she travelled out of Nigeria and there is no day I would wear the gown that people will not compliment me on how good I look. The gown was just a winner on me and young me love the attention the gown attracted. The gown was a dress shirt and looked corporate. It didn't expose any skin and had a 'not to special' color, chocolate brown, so I couldn't place my hand on what exactly made it a winner on me. The dress just found me. I remember a time when I wore it to a mini interview with an MD of a company I wanted to work in.
My brother saw me later that day and asked me if my plan was to seduce the man. He just felt I was looking too good even though the gown was 'okay' for the occasion. I could go on and on about the dress but that's not the purpose of this write up because I have grown bigger than the shirt and I don't even know where it is.(maybe a village where my used clothes goes to or another younger sister has claimed it hehehehe #youreapwhatyousow.co.ng)
Growing up I was thought to discover purpose and it was my desire to. I would pray and fast to discover purpose, sleep expecting a dream where I will see an old man telling me what to do in my life or even interview every spiritual person I know asking them maybe God had shown them 'my purpose'. In the process of searching for that ONE thing that God wanted me to do, I refused to let it find me. Purpose I believe is like a well suited gown that we stumble into owning but that I soon as we wear it, it suits us so well and everyone who sees it on you would admire it on you. It like when I try my mums shoes and it looks so beautiful on my leg that she has no choice but to give me the shoes for keeps.
Most things I am doing today I never received a vision giving me the step by step accomplishment of them, I'm happy for those who get expository explanation from God because at least you tend to get the words to explain what you are doing. That's why I dread writing a profile about myself because putting what I'm called to do into a word or a sentence feels so hard. I started by noticing my natural ability to talk well and loud, to express everything inside of me without being shy, to give flight to the creative part of me. I not only stopped at that but went on to discover what exactly I was passionate in because I was multi-gifted (I sing, dance, speak, counsel e.t.c). People often asked me why I talk about relationships a lot and I just can't give them a good reason than to say that it found me too. Before I even had a boyfriend I had friends seeking me for advice about their relationships, I don't know what they saw but they just found solace in talking to me about all the stuffs they were going through, even though i was single and didn't have enough experience. I got the tag "Love Doctor" in a training school class and the name just stuck. I had not even diagnosed my own love issues and when they call me the "Love Doctor". I ended up marrying a Pastor and the first message I was asked to take in the first church we pastored was about relationships and that's opened up more doors in that's area.
There are two things that helped me and it was my gift and my passion. If you only focus on what you are gifted in, you can get confused because we all have various gifts. If you only focus on your passion, you can also make a mistake because you might be passionate about something and not be GOOD in it. Watch idols to confirm this, so many people coming up stage with a lot of passion but when they start singing you crawl under the table so as not to here the jumble of croakative sound (croakative is a word I just made up with inspiration from a frogs sound). Whatever you do should combine your GIFT with your PASSION.
I never said you should put aside the divine factor, please don't because I didn't. Many of the things I am doing today I have seen it in my Spirit and it got confirmed to me by others.Many of us pray about discovering purpose but refuse to act on what we have in us. If you can sing join the choir and in time you will know if you are actually meant to stay on that particular gift or not. Many of us try to complicate walking with God which is simple and straight to the point. So my dear pray about it but also act on it. Our purpose is not just one sentence we place ahead our bed post but it is all we do daily to achieve it. Don't let your search for a big thing deter you from doing the little things that comes together to form a big thing. So please, let purpose find you as that brown gown found me and brought an exclamation of beauty anytime I put it on.
When you wear your purpose it fits you so well that people will exclaim that you are beautiful and other people who have not yet found theirs will say you look horrible and give you reasons not to wear it again. So when you wear your purpose,make sure you look at your mirror (the word of God) before you leave home because if what you see in the mirror it's okay to you, let the nay Sayers take a hike.
Warm Regards,
Aderonke Taiwo
13/8/2014
I am presently outside Nigeria yet purpose woke me up to write this
‪#‎teampurposecannotbecaged‬ ‪
#‎itisinyou
‬ ‪#‎Nigeriamustbebetter‬
‪#‎Imissmyboo‬